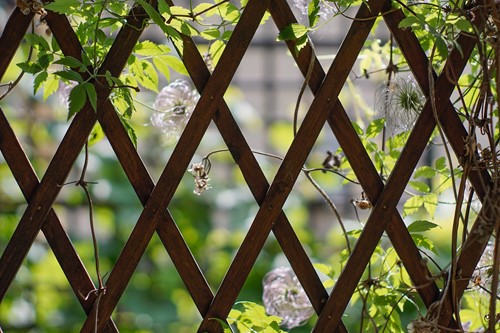 Adding some privacy to your outdoor spaces doesn't have to cost a fortune. While you might be tempted to splurge on brand new awning systems or the latest trends, you can accomplish a lot while sticking to your budget. There are also many projects you can DIY easily without taking up more than a weekend. Whether you're wanting to add shade and privacy to a backyard patio or your front porch, here are some ideas to get you started.
Build a Vertical Garden
A plant wall or vertical garden is easy to construct as long as you have the room for it. You can create a vertical garden attached to a wall or one that is freestanding. While professionally installed vertical gardens are becoming more widely available as interest grows they can be very expensive. Luckily you can DIY your own for a fraction of the price and make it all your own.
If you want to build a freestanding vertical garden, you can either build a frame from scratch or use a pre-made trellis from any garden or home improvement store. Depending on the size of the frame you will need to make sure it has a secure base to support the added weight of the plants. If you want to build your own frame you can use a wooden shipping palette. With the gaps between the wooden slats of the palette you can easily hang planters or pots. You can also attach small containers or lightweight window boxes to the wooden sections. This will allow you to enjoy smaller plants you might have already had in pots that were taking up too much ground space. Once it's up, you're free to hang pots, small planters or even encourage climbing plants like ivy to attach to the frame itself. This will add privacy and greenery to your outdoor space without the cost of an expensive installation process.
Create Shade
Plants are a great way to create shade but you also have lots of choices in textiles. There are plenty of expensive outdoor shading systems on the market, but you can also easily make your own if you're willing to put in the work. Make sure you measure everything first so you have an accurate starting point.
In terms of materials, canvas drop cloths are about as versatile and budget-friendly as you can get. They're inexpensive and easy to customize for looks and for extra outdoor longevity. You can add color or custom designs with a few coats of outdoor spray paint or leave them natural white for an airy, timeless look. Treating the canvas with a water-seal will help prevent mildew if you're in an area with a lot of moisture.
Attah the canvas to your choice of anchor, whether it be an existing structure or one you make. For a covered front porch, it's easy to add hooks or even a simple curtain rod to attach your new shades. Consider adding weights or attaching at the ground level as well to prevent the curtain from blowing up and away in heavy winds.
Both projects are easy enough to do in a single weekend and also give you room to be creative. Even if you don't have a pressing need for privacy, both vertical gardens and outdoor curtains are a great way to add style and dimension to your outdoor spaces.