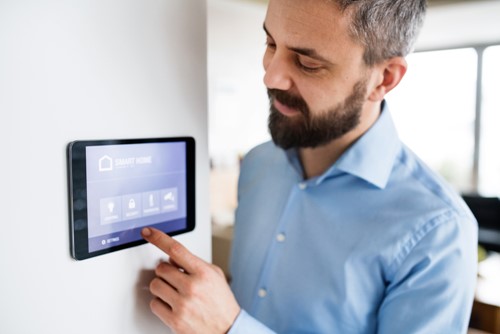 Photo by Halfpoint via Shutterstock
When it comes to conserving energy, homeowners wanting to go green often spare no expense. Here are a few ways to upgrade your home without lightening your wallet.
Smart Thermostat
A powerful method to control your power use while saving money on your air conditioning bills in the summer and heating bills each winter is by installing a smart thermostat. Utilizing a system that monitors the indoor and outdoor humidity and temperatures to adjust your system keeps your home on an even keel and your bills steady. Choose one with multiple sensors so that you don't end up with hot spots or cold rooms around your home. You can adjust your thermostat manually, but the best way to make it smart is to connect it to a smartphone or voice-controlled device.
Motion Sensing Dimmers
You try your best, but there's always one room where it seems the lights get left on more often than you'd like. The challenge is, it's the same room that's often empty most of the day, so no one even notices the lights burning. To combat this issue, replace the standard light switch with a sensing dimmer switch. That way, if someone's in the room, the light turns on, but when there's no one moving around, off it goes. And, when daylight comes in the windows, the sensor knows to keep the light off.
If you're retrofitting an older home, replace pull-chain lights in basements and utility rooms with a motion-sensing light so that you never have to stumble around waving your arms in front of you trying to grab the string to the pull-chain.
Adjustable LEDs
On the subject of lights, Take it up (or down) a notch with a 3-way LED. The equivalent of a 60-watt bulb can adjust from soft, warm light to bright, daylight with built-in wireless technology at the sound of your voice when connected to your smartphone or smart home.
If you're looking for ways to make your home appeal to a more energy-conscious set of buyers, try utilizing these inexpensive, smart home technologies.